DO YOU NEED A SUMP PUMP?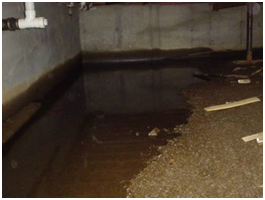 A sump pump eliminates moisture and prevents flooding. More than 60% of American homeowners have some type of moisture in their basements or crawlspaces, according to the American Society of Home Inspectors. Many homeowners' basements will flood at some point. Even if your basement doesn't flood, basement moisture can lead to mold and potential health problems. If you own a home and live in an area susceptible to excessive snow or rainfall, a sump pump is a smart bet.
HOW DOES IT WORK?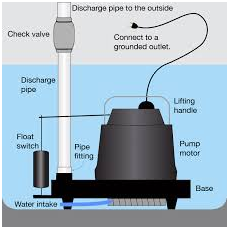 Water naturally drains into specially constructed pits or in a hole below the main surface of the basement that house sump pumps. Most sump pumps have an automated flotation system that causes the device to turn on and begin pumping water when it reaches a certain level. The water is pumped outside through a hose, to an area where the water can drain away from your foundation. Sump pumps are powered by electricity.
SUMP PUMP INSTALLATION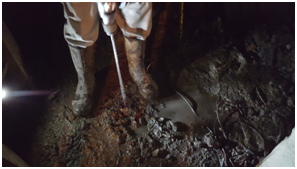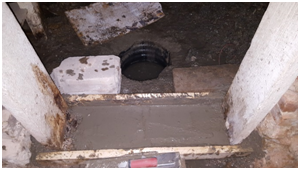 Sump pumps are available at most hardware stores. If you do a lot of work around the house, you may be able to install the device yourself. Otherwise, your best bet is to hire a professional to do the job for you, especially if your house doesn't have a sump pump pit already constructed.
SUMP PUMP MAINTENANCE
Once your sump pump is installed, follow some basic steps to make sure it is in working condition. This is especially important during spring and when heavy rainfall is in the forecast.
Ensure the pump is upright. If the device is tilted to one side, the float arm can become jammed and cease to operate correctly.
Pour a bucket of water into your pit. If the pump doesn't start immediately, have it repaired.
If you have a submersible pump, remove it from the pit from time to time and clean the bottom grate (pumps can suck in rocks that may block the inlet).
Make sure the pipes from your pump are tightly fastened and set to drain away from your foundation.
Check the vent hole for any blockages that could prevent water from flowing through your outlet tube.
DO YOU NEED A SECOND SUMP PUMP?
A second sump pump can be a valuable backup that comes in handy if your main pump quits working or becomes overwhelmed. However, if you don't think water levels will overrun your main pump, you might save money by investing in a water alarm that can alert you to any malfunctions.
Crawl Spaces will remain drier if the following precautions are observed:
"Head room" A minimum clearance under beams of 12 inches, and under floor joists of 18 inches. Larger crawl spaces tend to remain drier; they allow for more air circulation and easier maintenance and repair.
Vapor Barrier – A six milvisquene (plastic) should cover the entire soil area.
Storage in Crawl Spaces – Most crawl spaces are too small to be used for storage. In addition, the storing of materials in crawl spaces often reduces vitally needed air circulation and creates conducive conditions for rodent and other pest infestation. Very large "crawl spaces", spaces with 5′ or more of head room may be fitted out with vented storage shelves.
Venting – There is a considerable amount of dispute regarding the role of exterior venting in keeping crawl spaces dry. In some climates such vents may add moisture to crawl spaces by allowing entry of warm and moist exterior air into the crawl space and increasing moisture through condensation. Most building codes do call for screened crawl space vents with 1-1/2 square feet of venting for every 25 linear feet of exterior crawl space wall.
Basements will remain even drier if the following precautions are observed:
Floor Drains – Floor drains must be kept in good repair.
Sump Pumps – If you have a sump pumps, it must be checked and maintained twice a year.
Cracks in Concrete Walls and Floors – Cracks in walls should be sealed with a concrete caulk