Who We Are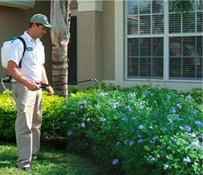 Central Termite & Pest Control has been providing reliable and professional pest control services for Arkansas Residents since 1957.  Our goal is to not only give our clients the latest in termite and pest control solutions, but also the peace of mind that comes with a knowledgeable, conscientious and dependable service team.  More importantly, we provide options that don't merely place a premium on your residence but also to those who call it home-with the safety of you, your children and your pets, always a top priority.
Why Choose Us


In keeping with our history of superior service, Central proudly offers Termidor-America's number one defense against termites and the devastation they inflict on
Read More
your home.The Termidor system, coupled with yearly inspections by the Central team, will insure that your home is always secure. With the Termidor system you get two important things: strength and safety.
Read Less

When it comes to eliminating and preventing other household pests, Central Pest Control again provides solutions that are highly effective and designed to fit your
Read More
lifestyle. When you have an insect problem, you want prompt response and Central delivers. We're a service driven company that guarantees your satisfaction with everything we do.
Read Less

As Arkansas residents know, mosquitoes not only impact your outdoor quality of life, but may potentially threaten the health of you and your family.Central now
Read More
offers treatments that let you take back control of your yard this summer. This new regimen significantly reduces, and in some cases, virtually eliminates mosquitoes and the health concerns associated with mosquitoes.
Read Less