Are you tired of letting mosquito problems ruin your relaxing
evening out on your deck or patio?
Make the most of your backyard this summer!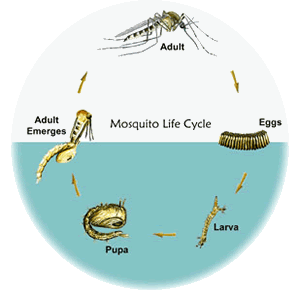 At one time, we simply thought of mosquitoes as a nuisance, but now we know that mosquito-borne diseases are a real threat to you and your family. We can help you relax and enjoy outdoor living with our Mosquito Prevention Solution. Central Termite and Pest will inspect your home and property and customize a mosquito solution utilizing a variety of products to help you. In addition, we will provide you with tips to control mosquitoes in and around your home and lawn.
While there are many "over the counter" measures you can take to minimize your contact with mosquitoes, our professional mosquito management programs can help take the bite out of mosquitoes and help create an enjoyable outdoor experience for you and your family. Some of the measures we take include a full inspection of the exterior of your property to locate and treat the areas where mosquitoes love to breed – basically anywhere there's standing water– birdbaths and clogged gutters are among the most common spots we encounter. We will treat these areas with professional products specially designed to control mosquito larvae for extended periods of time.
In addition, we will also apply a residual treatment around your property to control mature biting mosquitoes. Application sites include any and all areas where mosquitoes like to harbor during the daytime, including around trees, shrubs and shaded areas like under eaves and overhangs.
Your technician will make recommendations for you to eliminate conditions that are conductive to mosquito breeding and will return monthly to inspect and retreat to help keep the mosquito population around your property under control.
Enjoy Your Yard Again with Mosquito Protection!
It's time to mount a counter attack and reclaim your yard from mosquitoes. As part of our mosquito control System, Central Termite and Pest offers a wide range of mosquito prevention alternatives.
Seasonal Mosquito Protection
To protect your family and home from mosquitoes throughout their season, we will service your home monthly. This plant friendly process is used on bushes and shrubs, trees and other surfaces around your home where mosquitoes are most likely to land.
Special Event Service
For an upcoming barbecue or other outdoor event, many homeowners call Central Termite and Pest for a one-time mosquito control service to provide a barrier for a short period of time. These highly effective mosquito exterminator treatments are a great way to ensure the health and comfort of your family and guests.
What Can I as a Homeowner Do?
"We believe the best thing residents can do to prevent mosquitoes is to eliminate breeding sites on their properties." While Central Termite and Pest tactics are effective, the best weapon against the spread of mosquitoes is knowledge. Residents can prevent mosquitoes on their own properties by eliminating breeding sites:
Empty, remove, cover or turn over any container that has the potential to hold water.
Repair leaky pipes and outside faucets.
Make sure gutters and downspouts are free of blockage and are properly draining.
Change the water in wading pools weekly and store indoors when not in use.
Properly dispose of old tires.
Empty planters that hold water twice each week.
Empty bird baths twice weekly.
Empty your pets watering dishes daily.
Use sand to plug holes in trees where water can collect.
Drain or fill low areas on your property that hold water for more than three days.
Remind or help neighbors to eliminate breeding sites on their property.
At Central Termite and Pest, we know that our customers are our best form of advertisement. We hope that you will tell all of your friends, neighbors and family about us. As our way of saying "Thank You!" we reward our customers for each referral that they provide. As our customer, if your referral signs up with us you will receive $25.00 off your next mosquito treatment!